See For Yourself!
Take some time and see for yourself the quality of work Total Flooring in Vermillion can do for you!
Contact us today to get started on your next project.
Hours
Monday-Friday: 9am to 5pm
Saturday: 9am to 2pm
or by Appointment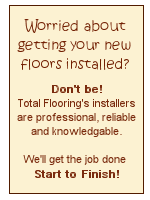 About Total Flooring
Total Flooring is located in Vermillion, South Dakota, and has over 75 years of floor covering experience. Our dedicated, professional staff is available for both residential and commercial use. At Total Flooring you will find that we carry the largest in-stock carpet and sheet vinyl selection in Southeast South Dakota. We welcome you to come explore our showroom and find a flooring option that will exceed your expectations once installed. With our in-stock selections, there is usually no waiting to carry out what you need, so stop in today!
When you stop at Total Flooring, you need to look no further for your floor covering needs!
"Your Floor Covering Specialist"